Ever wonder how many licks it takes to polish off an ice cream or how big you can scoop a sundae? Well, keep reading!
How many licks?
It takes an average of 50 licks to polish off a single-scoop ice cream cone! How many licks does it take you?
How big can you make a sundae?
In 1985, the biggest ice cream sundae was made in California. It stood twelve feet tall and was made with 4,667 gallons of ice Cream.
Hungry for sundaes?
A twelve foot tall ice cream sundae could make about 70,000 regular size sundaes. That's a lot of ice cream!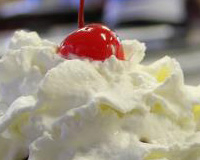 How much ice cream does Hayward's make?
If Hayward's could build a Sundae with all the Ice Cream we use in one season, it would be seven times the size of the one built in California!
How many jimmies?
Did you know, it takes Hayward's 3,000 lbs. of jimmies per year to satisfy all of our hungry customers.
What does a gas station and ice cream have in common?
In the early 1900's before we were Hayward's Ice Cream, this same building used to be a gas station. Read more about our history